Creative Flooring Ideas Using Vinyl Composition Tile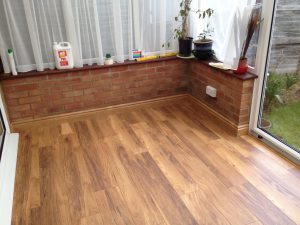 Few things in a home are as customizable as the flooring, and vinyl tiles make it easy to create inspired, eye-catching patterns that are inexpensive to put down. You not only have the option of coming up with your own unique ideas, but you can recreate the look of stone and other natural materials without the higher costs associated with them.
Popular patterns include checkerboard, herringbone, and basket weave. Checkerboard patterns are iconic and can add character to your kitchen or dining room. Try classic black and white for a retro look, or different shades of the same color for a more neutral, but classy feel. Have a herringbone pattern laid down in your bathroom or entryway for a stylish, polished look that can be matched to any décor. The basket weave is simple and unobtrusive for when you want something clean-looking that won't detract from the look of a room.
Beautiful flooring patterns can also be achieved by using vinyl composition tile to mimic stone, slate, or wood. Lay down tiles in various shades of gray to create an expensive look for a fraction of the cost. Create natural-looking designs with tiles that recreate the unique grain patters found in wood or the subtle color variations of natural stone. Vinyl tiles come in many color compositions and styles, making it easy to find exactly what you're looking for. They also hold up well under foot traffic and are easier to replace than more expensive options.
The possibilities are endless and the most difficult part of the process may be trying to decide between all of the great design options that are available. Whatever you decide on, a flooring specialist can help you make it a reality by ensuring quality work that will last for years to come, leaving you and your family free to enjoy the benefits of a beautiful home.