How to Renovate the Heart of Your Home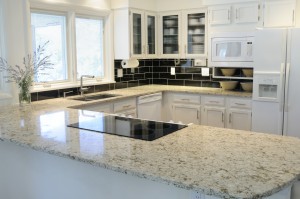 The kitchen is the heart of your home. Your family and friends gather here, it's where you prepare your meals and simply where you deserve to feel the most comfortable. When it comes to renovation investments, kitchen remodeling is one of the most popular. For help with your next remodel, here are the following areas you should focus on.

Walls and Ceilings

Walls and ceilings can easily gather dirt and grime in a kitchen. Grease splatters and other food related incidents might leave stains or other spots. When cleaned, you should paint your ceilings and walls in neutral colors that complement the décor.

Countertops and Flooring

The flooring and countertops should look clean. If you wash your floors but they still look stained or grimy, then it's time for an upgrade. Likewise, if your floors and countertops don't match the rest of the kitchen, then it's time to start looking for something new. You can use laminate instead of more expensive stones if you want to stay budget friendly with your kitchen remodeling.

Cabinets and Cupboards

If your cabinets and cupboards no longer match your vision for your kitchen or if the style is outdated, it might be time to consider replacing them. If the price of cupboard replacement is too high, cabinets are easy to resurface and repaint. Additionally, you can add new hardware. These simple changes are inexpensive and make a big difference.

Appliances and Fixtures

Are your appliances and fixtures modern? Are they clean or in working condition? If you have faucets that leak or appliances that are outdated, it might be time for an upgrade. It's amazing how different a kitchen feels when all of the appliances and fixtures are updated and clean.

The heart of your home deserves an upgrade. Whether you plan to spend a little or spend a lot on your kitchen remodeling, little changes can completely turn a kitchen around. Focus on what fits into your time, energy and budget.