Laminated Flooring – What You Might Want to Know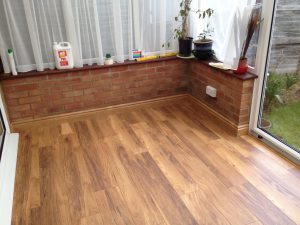 If you are trying to decide upon flooring for your home, you may have considered laminated flooring. This type of flooring is manufactured in layers that help to give it structure and strength. It is an affordable option that comes in many different styles. With treatment, it can even be waterproof. Before making your final choice, though, here are some things to know about this type of flooring.
Options
There are different grades of laminate. Some are created with a plastic bonding material to help increase the durability. Some types are made to look like wood, and others can be made to look like stone. There are many different colors and patterns available, too. Some types are more costly than others, and cost usually relates to quality. So, you do get what you pay for with this type of flooring.
Installation
Laminate used to be installed by gluing it down.  However, today's version is usually just snapped together using tongue-in-groove type construction. So, flooring installation can be done rather quickly with minimal mess and fuss. Usually, padding of some sort is installed underneath to prevent noise issues.
Maintenance
Cleaning laminated flooring isn't too difficult. You should use a cleaner and damp mop. It isn't advisable to use a wet mop, though. Spills should be cleaned up quickly, even on flooring that has been treated to be waterproof, to prevent damage. This type of flooring also scratches easily, so make sure you keep it swept.
If you are trying to decide if laminated flooring is the right choice for your home, just think about all these considerations. Laminate can be a great choice and usually offers the most budget friendly option. However, you do need to make sure that you are okay with the maintenance requirements and that you actually can find laminate that will suit your décor style. Taking these things in mind can help you to make the right choice.