Some Trendy Backsplash Ideas for Your Next Kitchen Remodeling Project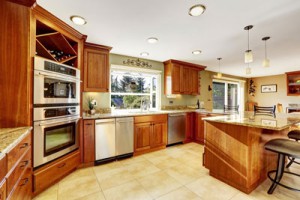 Many people who remodel their kitchens spend the most time considering the appliances or the countertop space. While those areas are certainly worth refreshing over time, sprucing up your kitchen with some creative style options can revive a less than inspiring space. Here are some trendy backsplash ideas to consider for your next kitchen remodeling project.
Clean Subway Tiles
Modern, fresh spaces these days are full of neutral colors and clean lines. Subway tiles are the answer to most of these trends, looking pristine and smooth as a kitchen backsplash. Basic white can look classy and elegant, while gray or ivory can add a touch of character without overwhelming the space.
Colorful Granite All Over
Though granite is generally reserved for countertops in most contemporary homes, continuing the same material up into the backsplash can keep the look refined and chic. With a variety of patterns and colors, granite makes a lovely style choice while also remaining durable over time.
Classic Black and White Tiles
Black and white tile patterns may seem like a dated 1950s concept, but the original look never seems to go out of style during kitchen remodeling projects. This trend appears most fashionable with mosaic or hexagon tiles that can be arranged into a suitable style reminiscent of old-fashioned diners.
Textured Slate
More rustic, nature-inspired kitchens would look stunning with a textured slate backsplash. The style's popout pattern with rocky edges can be displayed in a way that looks authentic, lovely for mountain homes or cabins. They are also available in a handful of colors, giving your kitchen area a special upgrade in style to match your personal tastes.
Kitchen remodeling comes with an assortment of decisions to make, but choosing a modern, refreshing backsplash idea will truly make your kitchen space shine. All of these stylish trends have become staples of interior design, and they should be considered to revitalize your own home when the time comes.