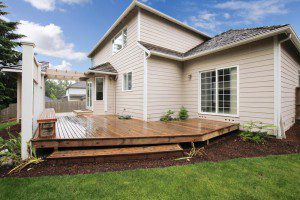 Protecting the look and investment of your home is a large part of home ownership. The house siding you select is a huge part of that protection. Whether you want the traditional look and feel of wood siding or something a little easier to maintain, there are plenty of styles and colors from which to choose, so you can create the siding look for you home you want.
Real wood siding is the most traditional, and least expensive, type of house siding available. Wood siding has several advantages, including being the least expensive siding option and being able to paint the siding any color. While it does give a classic, elegant feel to the exterior of your home, wood siding can be the most difficult to maintain. It requires constant painting, caulking and annual pest control efforts to keep it looking its best.
Aluminum house siding is another cost-effective option, and can be used in many cases to cover up existing, tired wood siding. Aluminum siding provides greater weather resistance than does wood, and can be painted any color. Over time, however, the paint does fade or peel and the metal begins to show itself which is not always aesthetically pleasing.
The more expensive options for house siding include vinyl and cement fiber. These materials both cost more initially to install but require far less maintenance over their lifetimes. Vinyl siding comes in variety of colors and broken or cracked panels can be easily replaced over time. Cement fiber siding combines the best of all worlds, at a higher price point. The siding is created from recycled materials and can be crafted to give the appearance of wood siding, without the maintenance needs of wood. Neither Vinyl nor cement fiber siding are susceptible to pests or weather damage, and both can be easily cleaned as part of your annual home maintenance.